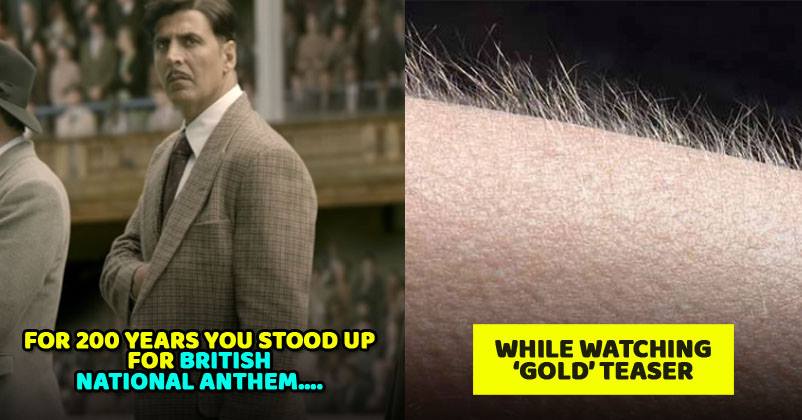 There has been a lot of buzz surrounding Akshay Kumar's movie "Gold"; ever since it was announced, it took our patriotism to new levels.
Now, the teaser of the film is out & once again, the makers have planned a hatke way. The teaser of Gold was released in theaters today before "Race 3" and everyone was surprised to see the new tactic. In fact, the way it was released gave us GOOSEBUMPS.
The teaser starts with "Stand up for the National Anthem"; it's obvious that with such message everyone must have stood up. However, the twist is that British National Anthem starts playing instead of Indian one. This is where Gold makers have delivered an important message.
Well, we stood up for the British National Anthem for over 200 years, but now, 1 man i.e. Akshay Kumar changed the trend & won Gold for India. He made the nation proud & made the British stand up for our anthem after winning the first gold for India in Olympics.
Watch it right away;
Click here
to watch the teaser directly on YouTube.
However, viewers in the theater were left confused with this teaser; at the same time, they loved the style of portrayal. Here are some reactions;
GOOSEBUMPS!
The theater reaction!
Beautiful Presentation!
Can't wait for the trailer!
We love it!
Unexpected!
We certainly can't wait for the teaser now. Gold is all set to hit the screens on the Independence day weekend.