Akshay Kumar starrer "Padman" is all set to release today (February 9) and we have no doubt that it is going to perform superbly at the box-office.
The movie is based on the real life story of Arunachalam Muruganantham who got disturbed with the fact that the women of his house used old clothes during menstruation which is definitely not hygienic and can result in getting women sick. He went on to develop a machine which can produce low cost sanitary napkins and brought awareness about menstruation hygiene in the rural areas.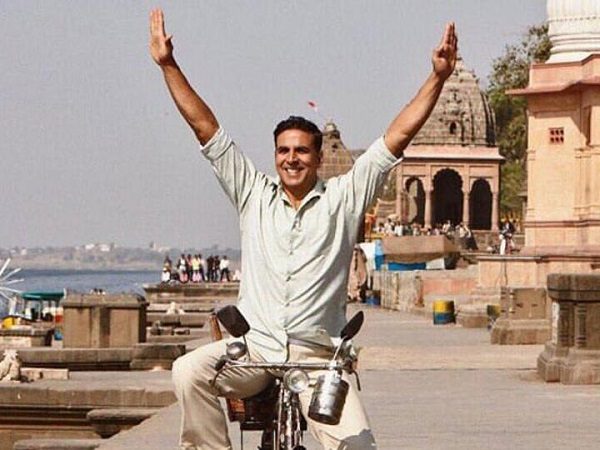 For past few days, many celebrities from Bollywood and other fields have been posting their photos with sanitary pads on social media as a part of the "Padman" challenge and tagging other people to take up this challenge in order to show support for "Padman".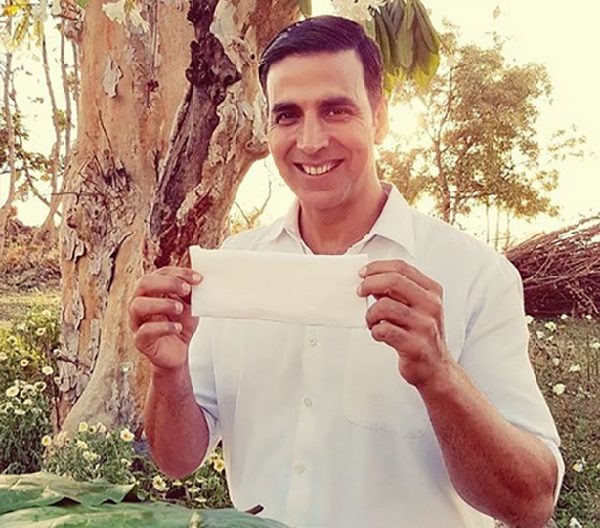 Comedian Mallika Dua took a dig at this challenge when she posted,
"Always remember, each time you feel weak, each time you feel lesser than your equals, each time you feel you've been made to feel lesser for no reason and that the fight has just about begun… When you feel the society and the government have not given you your due, hold up a sanitary pad and post a picture of it on Instagram. You will feel empowered. So empowered. Bye."
Many fans of Akshay Kumar got irritated with her as they felt that she has problems with "Padman" because of the old incident that happened on The Great Indian Laughter Challenge. In the comedy show, Akshay Kumar made an inappropriate comment, "Mallika ji aap bell ko bajao, main apko bajata hoon," and Mallika's father Vinod Dua, a famous journalist, also slammed the actor for this.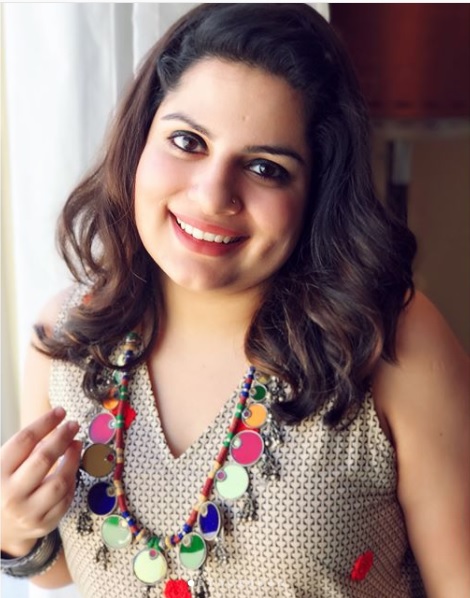 However, Mallika has now made another Instagram post in which she has clarified that she is not against "Padman" but it is "Padman" challenge with which she has problem.
Her Instagram post read:
"Preying tabloids would be disappointed to know that I wholeheartedly support the idea of a movie like PadMan and the fact that it is being helmed by a massive film star will attract a huge single screen audience because that's the only way cinema will help destigmatise menstruation for the masses that look at it as a hawwww thing. It's the Instagram challenge that's wasting pads, targeting the wrong audience and masking itself as a movement when all it is a marketing gimmick that I find stupid. I hope and pray the movie does exceedingly well, reaches and teaches people and brings about the change that only cinema has the power to bring. Sorry I can't feed your hunger for sensationalism there."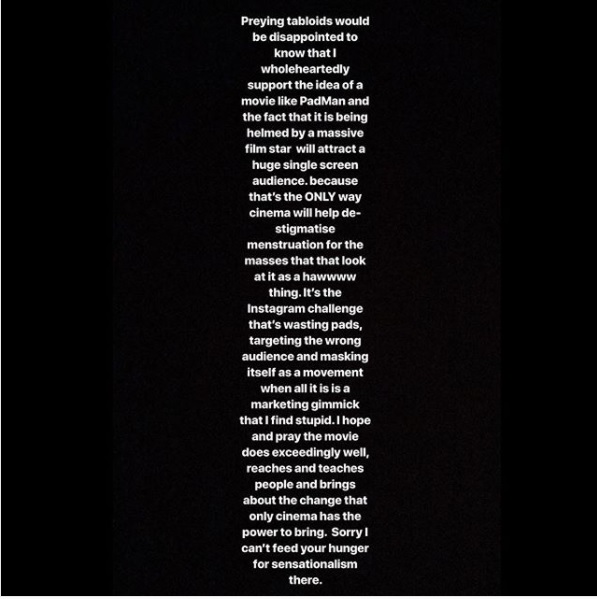 She shared this with caption, "Chota font for those with choti soch"
Social media users trolled Mallika for her posts. Here are some selected reactions:
She has problem with everything Akshay is doing:
— Anonymous Indian

(@UFOmaker01)

February 7, 2018
Shameful:
One thing is for sure before Akshay Episode I was not aware who is

@MallikaDua

nice way to get publicity and limelight. People can have issues with people but not with the ideas or thought. Shameful to know that novel promotion idea being targeted for personal grudges.
Terrible Mallika Dua is just trying to get some footage by tarnishing such a pure movement necessary for us all. It has affected me personally. Now I am not hiding when I buy a pad and I'm so glad. Shame on you Mallika Dua for questioning even the challenge itself.

#chhotisoch
Who asked her to take this challenge?
Isko kisne kaha bhensi ko padman chalange kare faltu me publicity karne aa gayi bhensi

Aur isko kisisne tag bhi nahi kiya faltu me aa jate he apni publicity karne

@MallikaDua
She wants attention and limelight:
Pseudofeminist and not so funny comedian is doing all kinds of media stunts to grab some limelight.
Publicity seeker:
Another publicity seeker whose only name to fame is her so called feminism. No wonder feminism has become more of a joke due to such pseudo intellectuals
Good way to get fame:
Everybody trying to get famous by attacking popular faces
Velli:
She is velli these days. Needed an issue to remain in limelight for few days.
Dead career revival:
And this solid insult:
Bhai let the side dogs bark!
That's why they are born

— Anonymous Indian

(@UFOmaker01)

February 7, 2018
What is your take on Mallika's post? Let us know.