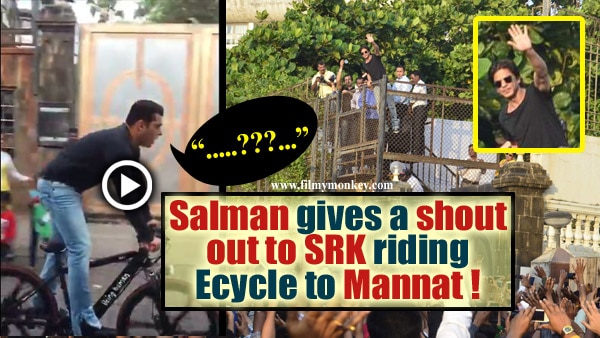 The recently launched Being Human Ecycle now has an official twitter handle and the 'Tubelight' star shares this information with fans by posting yet another video of riding his bike and this time he chooses a route that leads to Shah Rukh Khan's bungalow Mannat.

Salman in his denims and black full sleeves shirt rides while his associates capture him riding bike from their car.

The Bhaijaan goes zoom past SRK's Mannat and turns to give a shout out too. Audio isn't clear but he seem to shout "Shahrukh ka bangla(bungalow)" in the video. The camerman laughs and Salman turns to camera to give a smile too.

Salman had posted another video a day ago riding the cycle on the streets of Mumbai and he was seen constantly waving and greeting his fans who were eager to catch his glimpse and his attention.

Everyone's aware that SRK has also done the cameo role of a magician in Salman's much awaited film 'Tubelight' and we did catch him in the trailer too.

SRK had already said in reply to a fan who asked him to join him on Eid that he "will be with Salman on that day".

So do we see SRK promoting Salman's film too now?

For now, this video is a double treat for both SRK and Salman's fans!

What do you think about it?