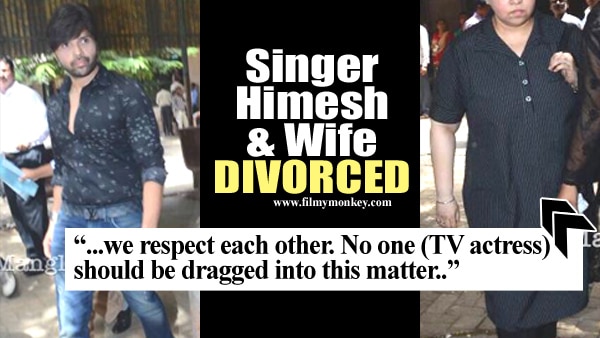 The Bombay court granted divorce to the singer Himesh and his wife Komal and the couple of 22 years have issued a statement on the same.
Himesh, who had filed for divorce at the Bandra family court in January early this year said post getting divorced today- "Sometimes in life mutual respect becomes most important and giving due respect to our relationship Me and Komal have amicably decided to part ways legally as husband and wife and there is no problem whatsoever with this decision amongst us and our family as every member of the family have respected our decision and yet Komal is and will always remain a part of our family and I will always be a part of her family".
Ex-Couple was spotted at family court in Mumbai today after which they parted ways.
It was speculated that the break-up was caused by his proximity to television actress Sonia Kapoor but his wife Komal had denied the third woman angle in their it. Sonia had said in an interview given to TOI in Januray – "No one should be dragged into this matter; no one is responsible for it. Our marriage failed because of compatibility issues. Sonia is not to be blamed for this; we love her like a family member."
The parents of a son Swayam were reportedly staying away for a while before Himesh filed for divorce.
Komal shared her views stating the same again, "I and Himesh completely respect each other and are jointly going with this decision to part ways legally but mutual respect will always be there between us as I am a part of his family and will always be, and the same is with him towards my family There are compatibility issues in our marriage but we respect each other immensely. Nobody else should be dragged into this matter and nobody else is responsible for this and the reason for our marriage not working is only and only compatibility."
Sources close to the family say that Post divorce Komal will be living in the same building where Himesh stays.
Himesh Reshammiya and Komal together confirmed that the divorce has been mutual and they have immense respect for each other.