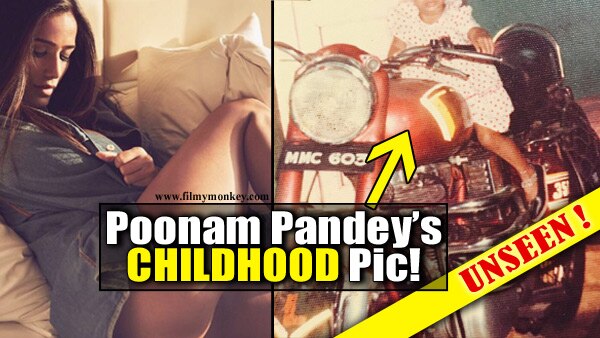 The hot and controversial Poonam Pandey was in news two months ago with her newly launched bold App '

ThePoonamPandeyApp' that was banned by Google soon after it's launch but her racy pictures did make it online with fans circulating it all over.

Model Poonam had come into the limelight 6 years ago when she promised to strip if India won the World Cup that year but she could not fulfill her promise and said she was denied permission by the BCCI.

Well, this shot her to fame and the model who also featured in Bollywood film 'Nasha' thereafter, has come a long way and has gained popularity through her bold social media posts earning lakhs of followers.

Well, a fan recently shared her unusual picture and this one is a rarely seen from her childhood actually!

About 5-6 years old Poonam as a little girl wearing a frock with her hair tied in two small pony tails sitting on a bike looks too cute in her throwback picture that she herself had shared a year ago with a caption

"Childhood Pic!! lol "

When the fan shared it again few days ago tagging her on Twitter, Poonam writes to him – "Lol where did you find that?". And when another one asked "whose bike is this?". She writes – "That's my dads old bike :)"

Strangly, Poonam Pandey had forgotten that it was her who shared this in the first place with her fans.

Well, the picture then did not grab much attention, but it has now.

Poonam is already preparing to 'treat' fans yet again as her Instagram page is heading for a 1 million followers mark. She wrote in her recent tweet,

"Reaching 1 Million soon on Instagram!! A Surprise for y'all 😉

http://

instagram.com/ipoonampandey

"

Here are some more latest posts by Poonam and which are the secret to her popularity among fans & followers too! She currently has over 8.40 lakh followers on Twitter and over 9.95 lakh on Instagram. She also keeps promoting her App which is now available only on her official site with her scorching pictures to attract users.