If you mistake Aryan Khan as Shah Rukh Khan, we would not blame you. With each passing day, Aryan looks more and more like Shah Rukh and we are not complaining. The Shah Rukh we are talking about is from the 90s with Aryan having the same whiskey eyes, the dreamy air, the well defined jaw, the sharp nose and that well pronouned Adam's
apple
. Aryan, of course, is more groomed than SRK was back then. In fact, the witty actor has himself said that he used to sport a 'baboon haircut' back in the day. Now, that is a phrase we would never used for the buffed younger Khan.
We do hope that beyond just getting the look, Aryan gets the qualities of superstar from his dad. However, we wouldn't be surprised if he already is a star. Even Shah Rukh's daughter Suhana has all traits of being the leading lady. She is a style icon among the teenagers and head-turner at any event. Just like her mother Gauri, Suhana has grace and class in her body language.
Check out another picture of Shah Rukh Khan and Aryan: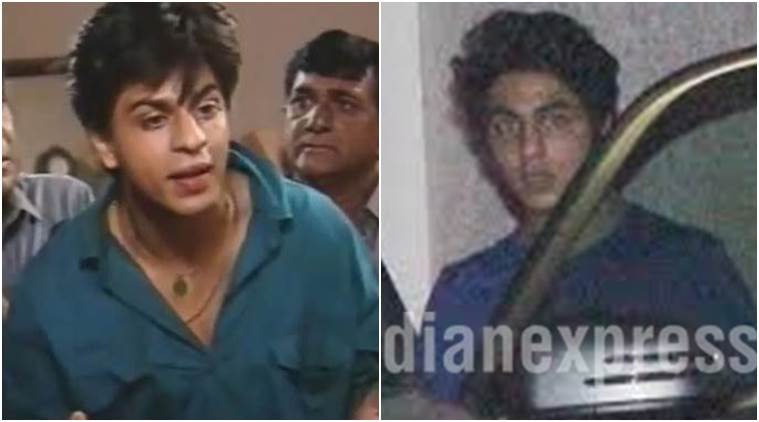 Talking about Aryan, SRK said in a recent DNA interview, "We talk a little about filmmaking because he's learning that. But he would like to recede from that because he wants to learn it on his own. We watch films and while watching them, we talk about certain aspects of filmmaking. We talk about getting into trouble, picking up fights, how to beat up the other guy or answer back when a guy messes with you. He talks about his ambitions, and where he would like to be one day. But he's very clear that way. He just wants to be bigger than me and that's cool. Then, we make fun of family members — he does this, she does this. We also go shopping, buy some boy T-shirts… He's more colourful than I am, which is nice. He's not grey, blue and black like me."
Aryan Khan was spotted at Khar in Mumbai:
Meanwhile, every star kid — whether Sridevi's daughter Jhanvi Kapoor or
Saif Ali Khan
's daughter Sara Ali Khan — is prepping up for their big break AND we are keen to know when Aryan would take over the silver screen. By the way, the rights to launch him as an actor are only with
Karan Johar
, who had announced way in advance that only he would direct Aryan Khan's debut in the industry. Well, we are waiting.