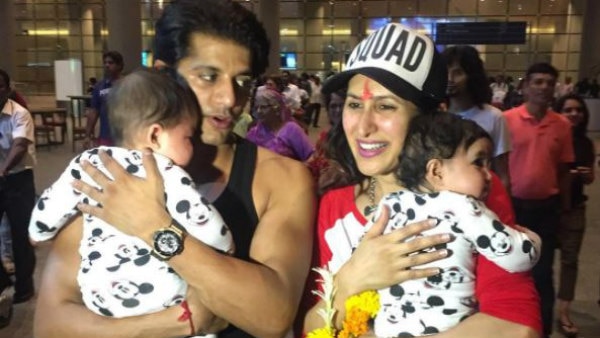 Popular 'Naagin 2' actor Karanvir Bohra became father to twin daughters on October 21, 2016. His wife Teejay Sidhu welcomed their little bundle of joy in London. KVB was shuttling between two countries ever since his adorable daughters were born. But recently, his twin daughters along with his wife Teejay Sidhu have finally landed in India. And now, the actor has revealed the nicknames of his adorable twin daughters.
Karanvir recently shared an adorable picture with wife Teejay and daughters on Instagram and revealed the cutest nicknames of his darling daughters in the long caption. The picture has been captioned as, "Thank you all for your love and wishes, @bombaysunshine???? and the #BohraBohra sisters have landed safely. #Miko & #Nonu ( official nicknames) The one in my hand is Miko, Elder by a minute, A fierce Lioness by nature.Tj says she looks Japanese, thus the name Miko-Tashi ???? And ofcourse the Tee is holding its the petite and dainty #Nonu, the name says it all, she is like a little doll princess ???????? My excitement has no bounds, I can't even express the feeling I have when I look at these 2 I haven't slept more than 4 hours in the last 2days, and I've been doubling up with my regular shoot timings, now the daddy duty has hit me like a #thunderbolt ⚡️ But you know what? I'm loving it, staying up late, now has a purpose – good bye sleep, see you in a year or 2????".
Check out the picture here:
The actor has been married to TV actress Teejay for more than 10 years now and the couple has now completed their family with the two beautiful daughters coming into their lives.
Miko & Nonu…! Aren't the nicknames cute? Do tell us in the comments section beloe=w!