The moment for which thousands of Indian Beliebers were eagerly waiting for finally came to life at the DY Patil Stadium in Navi Mumbai on Wednesday evening. The Canadian pop star,
Justin Bieber
, finally landed on the stage amidst a thunderous welcome from his many fans. Those who relished the performance included many Bollywood and television actors including
Alia Bhatt
, Malaika Arora,
Jacqueline Fernandez
, Arbaaz Khan, and Arjun Bijlani among others.
And ever since the pop sensation bid adieu to his Indian fans with his final words being, "Thank you India, you've been great, I would like to come again," these stars have been constantly sharing several pictures and their feelings about attending the much-awaited concert on their social media account. But not all left the venue with all praises for the concert. There were some who found it complete 'waste of time'. Surprised? We too were as we read the tweet of Bollywood beauty Sonali Bendre who attended the Justin Bieber show with her kids.
"Biebered out!!! Missed d efficiency of @WizcraftIndia n d personal touch of @WizAndreTimmins #wasteoftime," wrote Sonali as she returned from the DY Patil Stadium disappointed. Earlier she tweeted about her attending the concert as a mom's duty since her kids wanted to witness the pop star singing live. She wrote, "Beibered out!!! #concert #growinguptoofast #momduties #purposetour." But even after Sonali's negative review of the concert, the organiser Andre Timmins of Wizcraft thanked her for her kind words. He replied to Sonali's tweet saying, "@iamsonalibendre thank you so much for your kind words ❤️@WizcraftIndia." Now was he taking a dig at the Sarfarosh actor or he really didn't get what Sonali wanted to convey, we would surely like to know.
See Sonali Bendre's kids at Justin Beiber concert
Sonali was not the only Bollywood star who returned disappointed from Bieber's show. Joining her were actors and couple
Bipasha Basu
and
Karan Singh Grover
. The couple left the venue within five minutes of arriving. While leaving, Bips told the media that she never expected such a huge crowd at the venue and she didn't come along with her bodyguards. "We didn't get security with us and it is too crowded so we are leaving," said Bipasha as she left with Karan.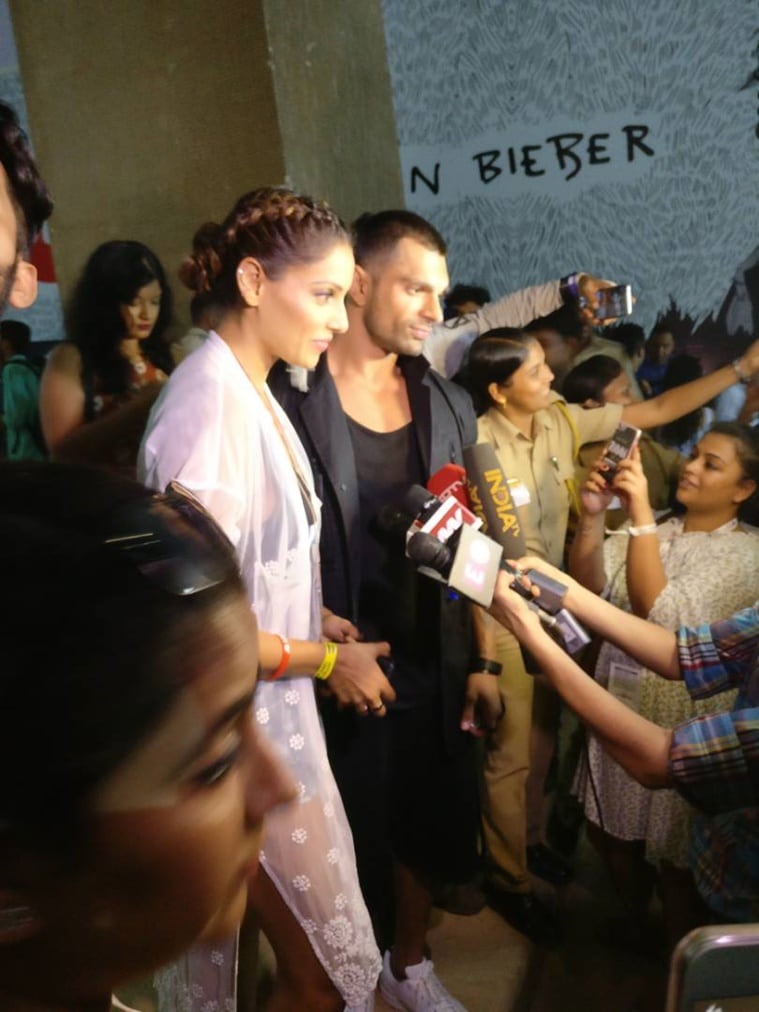 Though they didn't enjoy the concert but the Monkey couple of Bollywood did spend some quality time with each other. After they left the concert venue, Bipasha and Karan headed for a dinner together. Sharing the picture from last night on her Instagram, Bipasha wrote, "So what we could not enjoy at the concert… still it's always fun with you my love. Thank you."
But after returning from the concert without listening to Bieber, Bipasha in her another post wrote, "All dressed up for nothing🙈 Ha ha ha!"