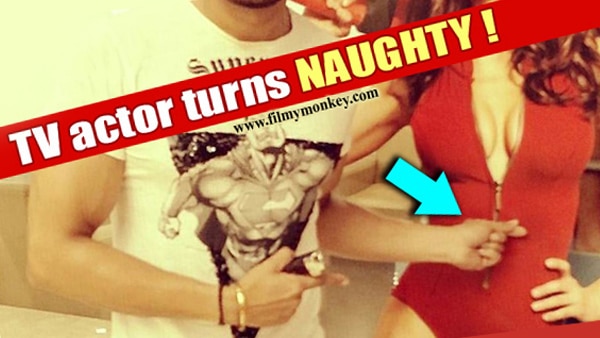 Popularly known as the 'Abeer' from Yami Gautam's 'Yeh Pyar Na Hoga Kam' , Television actor Gaurav Khanna who is currently playing main lead 'Virendra Singh' in 'Prem ya paheli – Chandrakanta' opposite Kritika Kamra was just spotted by his wife Akanksha Chamola in a naughty act.
The 'Swaragini' actress who married Gaurav in November 2016, was welcomed on Instagram this week itself by none other than her hubby himself.
"Welcome to insta jaan..finally.????@akankshagkhanna #loveu #marriedatfirstsight #morelife #funtime"
Since then she's been posting their adorable pictures and moments on Insta and the latest will have you in splits.
Akanksha posted a picture of her husband Gaurav standing beside a live size cutout of a hot woman clad in a beach wear. Gaurav has his hand on her zipper on the dress revealing her cleavage.
Akanksha captions it, "My classic gentleman @gauravkhannaofficial trying to help her wit the zipper gone wrong????????
Then finally came along 2 pretty rescuers @banerjeepuja #movienights #crazycouple #funmoments"
Looks like, the couple was out on a movie night and they were accompanied by the hot actress and her bestie Puja Banerjee too.
(swipe left in the post below to see next pic where pretty Puja comes to the rescue)
The fun post by Akanksha leaves us wondering though that Puja rescued her hubby out of this situation or the hot woman in her cutout avatar!
Lol..
Here are some more pictures by the couple on Instagram that are Awww!