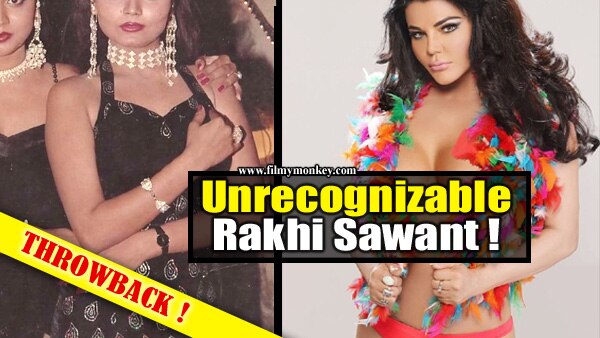 We time and again get to see the the bold actress Rakhi Sawant's sizzling pictures she shares with her fans through her social media pages and now what we have for you will rather leave you in shock!
Yes, Rakhi looks almost unrecognizable in this throwback picture from her very early days in her career and her all different look actually reminded of a Bollywood actress from the 90s.
The picture has Rakhi clad in black sleeveless suit posing with another girl and her face obviously looks changed since it is now a known fact that she has undergone plastic surgery to get her current look with fuller lips.
Rakhi captioned this picture, "My childhood pic wth my elder sister nic memories of life can't believe I was like dis n lots of struggle wt I did hardwork feel like ???? crying".
If you're wondering what's 'childhood' doing in her caption, then yes, she is already being pulled by fans for that and many of them even commented on her different looks mentioning her plastic surgery.
You cannot believe what she had to say to this! She completely denies having gone under the knife at all.
She commented in the same post:
And did Rakhi's old avatar remind you also of a Bollywood yesteryear actress?
Well, she looked way too much like Sheeba Akashdeep, the famous actress of 90's and who was seen as Salman Khan's heroine in 'Suryavanshi'.