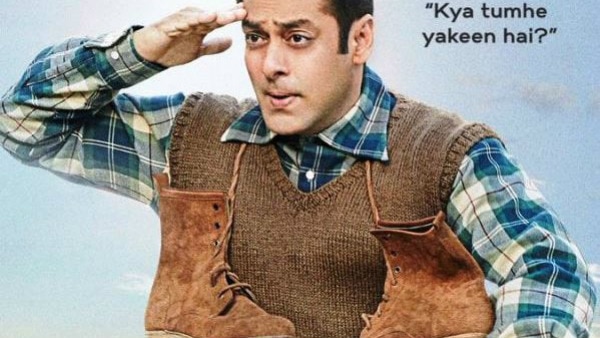 Salman Khan will soon be back on the big screen with his next film 'Tubelight', which is his third outing with director Kabir Khan after the success of 'Ek Tha Tiger' and 'Bajrangi Bhaijaan'. Recently, the actor released the posters of the film which has already created a buzz among the trade. But, one thing that has created curiosity among the fans is the shoes around Salman Khan's nect in the film's second poster. But now, the mystery around the shoes has been revealed.
Spoiler Alert!
Speaking about the shoes, a source told Bollywood Life that, "The shoes seen around Salman Khan's neck on Tubelight's poster actually belong to Sohail Khan's character in the film, who is missing and in the film. The shoes are basically a character in the film and not just a prop. Salman Khan's character Tubelight, as he's called in the film, will be seen carrying them throughout the movie, while searching for his brother."
'Tubelight' is one of the most anticipated films of this year as Salman Khan is coming back on the screen after the stupendous success of his last film 'Sultan'. Recently, the 'Dabanng' star shared the posters of the film on his Twitter account. Check out the posters here:
Here is the film's second poster in which Salman is carrying the shoes around his neck:
We were very sure that the shoes are there for a reason in the poster and now that the mystery has been revealed, we are more eager to watch the film!
Are you eager too? Do tell us in the comments section below!