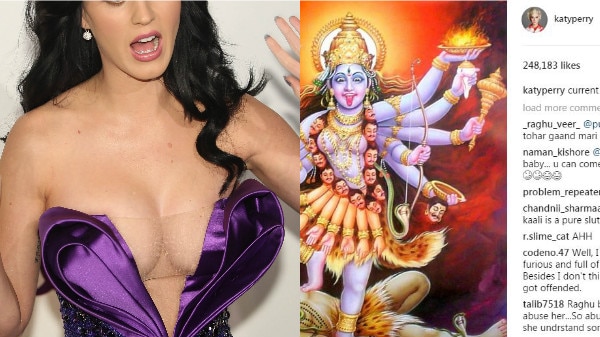 International pop singer Katy Perry disappointed her Indian fans after she posted a picture of Goddess Kali on her Instagram page. The singer shared the photograph with a caption "current mood", which didn't go well with most of Indian followers who found it "disrespectful" and "offensive".

However, this did not go down well with many of her Indian followers.
"Don't disrespect Indian Goddess… this can't be called as mood.. have some values. Just delete this picture. (No hate for her)," one person wrote.
Another said it was not a good idea for the singer to use a religious image to represent her mood.
"This is a little offensive to the Hindu community because the meaning behind this photo and god symbolises something different. Not sure what you intended it for, but its supposed to symbolise strength, and courage," an Instagram user posted.
Perry is no stranger to Indian culture – in 2010 she got married to her now former husband, Russell Brand, in a traditional Indian ceremony in Rajasthan.
She also found some support within the community on Instagram as many of her fans asked not to take things seriously.
"Ma'am please don't listen to the hatred…some of us have made their habit of getting offended… it has become a national past time," a fan said.
"I really appreciate your interest regarding Hindu religion. Loads of love from India."